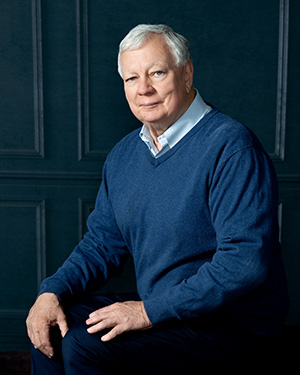 Do you want to change your life?
Are you stuck and finally want to chase your dreams?
In Suck It Up Cupcake author Dennis A. McCurdy will show you the solutions.
He will teach you how to solve your problems in ways most people never consider and give you insights into yourself and what you need to succeed.
A better life awaits...
...if you could only get out of your own way.
Are you your own worst enemy?
This is a book about fear, determination, self-defeating mindsets, and how to overcome every obstacle that life puts in your way.
Dennis was not an overachiever. Finishing high school eighth from the bottom of his class, he went off to Vietnam to fight for his country. When he returned, at age 24, he sold hot dogs and donuts. Broke and depressed, wasn't how he wanted to spend his life.
He had two things going for him.
Dennis wasn't afraid to work hard and learn (and teach himself) what he needed.
In twelve years, he built several (real estate and other) businesses and was worth over (1) one million dollars.
Designing the life you want is about learning to problem solve in ways most people never consider. This book will give you insights into yourself and what you need to succeed.
You'll learn how to:
Stop waiting and start
Pay Attention, learn to know yourself
The Compound Effect will move you forward step by step- will show you that every action moves you (Powerful concept)
The potential of the Law of Association
Master the power of Deliberate Practice
And much more
This book is about solutions.
You'll love this personal development book, because Dennis speaks from the heart, isn't afraid of the truth, and shows you the path.
---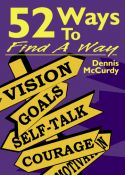 52 Ways To Find A Way
By Dennis McCurdy
This collection of short, insightful essays—one for each week of the year—provides wisdom, inspiration, motivation, and yes, an occasional kick in the BUTT.
Order Both Books and Save $10.00!
---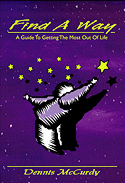 Find A Way

Dennis McCurdy's FIND A WAY is a straightforward compilation of suggestions that will simplify your life and set you on the path toward success.

Find A Way.... The message is that simple…and so is the path. I want to help you Find A Way to travel your path towards success…but first you must decide to take the journey. Are you willing and ready to chart your new course?

"The book has the feel of a friendly neighbor sharing the secrets that enabled him to win in life." - Tolly Burkan, author of Extreme Spirituality

Table of Contents
What It Means * The Subconscious Mind * Beliefs and Your Thoughts * Fear: The Final Frontier * Habits * Self-Talk * We Make Life Harder * The Seventh Inning Stretch * Life Vision and Goals * Mastermind Groups, Goal Buddies, Partners * Putting My Feet to the Fire * Reflections * Quotations Referenced * Suggested Reading List * Bibliography * About The Author